Reliable & Professional Apopka Landscapers
For most people, owning a home is part of their great American Dream. However, people don't realize that making that dream a reality comes with lots of work. You need to ensure each aspect encapsulates your vision from the interior to the exterior. Our area of expertise at Highland Grove Landscaping & Farm is the exterior aspect of your home.
Landscaping goes beyond creating a yard that's beautiful to look at. It also involves creating a low-maintenance outdoor space that is perfect for you and your loved ones to enjoy. Thanks to our Central Florida landscaping design skills, we can help make your landscape goals a reality while sticking to your ideas.
Whether you want a pergola installed, the perfect garden, or outdoor landscape lighting, we are available to help. Schedule a free consultation via phone at (352) 394-3318 and we will get started from there.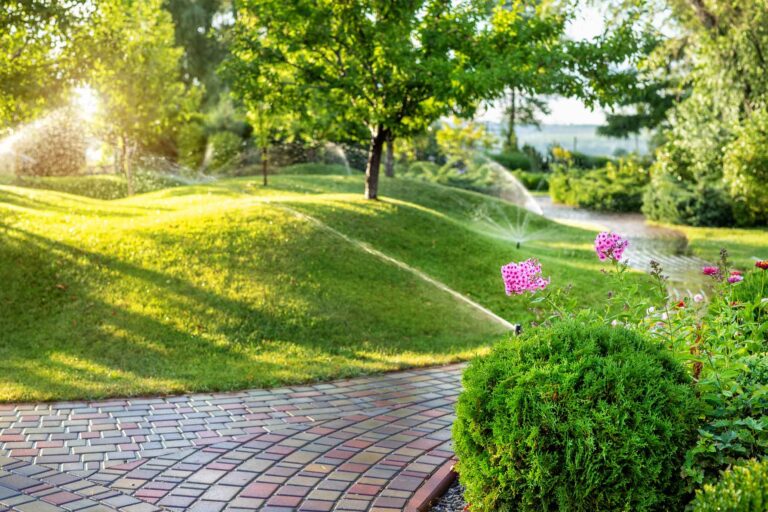 Your Go-To Apopka Landscaping Company Since 1999
Your Go-To Apopka Landscaping Company Since 1999
We know just how much work goes into transforming your landscape ideas into reality. So, why not let us worry about that for you? Some aspects that make us different
Free first consultation meeting with our landscape designer

Client-focused services

Trusted and Recommended since 1999

Sustainable and weather-resistant landscape designs

Low-maintenance landscape installations
Aside from Apopka landscape design, we also offer landscape installation services like outdoor lighting Apopka installation. With this service, you get to make your home or business outdoors stand out during the day and at night.
Apopka Landscaping Services We Offer
The services we offer at Highland Grove Landscaping & Farm include the following:
"I have recently purchased a home in Celebration, Florida, and one of the first things it needed was a landscaping makeover. Highland Grove, under the excellent direction of Diana and Greg, knew exactly what it needed to make the house "stand-out" amongst the others. Diana listened to my requests and guided me in the right direction to give my home the perfect touch to bring it to life!....Literally! By far, this was the BEST decision I made to make my new house a home! Thank you, Highland Grove!"
"Dear Diana, Eric & I just wanted to take a moment to thank you for your efforts during our recent backyard renovation project. As you are well aware, the overall project had numerous delays and contractor issues. However, the one contractor we could count on was your company. You and your team's patience and level of professionalism far exceeded our expectations.Moreover, the final product you delivered truly is a masterpiece. You truly made our dream of a Tuscan style retreat a reality. Guests who visit our home tell us repeatedly, that we have the most beautiful pool area in Celebration.Thank you again for all your efforts! I have no doubt that you and your company will continue to enjoy much success."
"We wanted to take this opportunity to thank you for always doing such a great job on our property. Your vision, expertise and genuine caring for what you do, has transformed our home into the showcase home of the neighborhood. We love that you have offered the service of taking care of the landscaping by mowing, weeding, trimming and fertilizing. We look forward to the 3rd week of each month, when Loren and the guys come to perform their magic."
"The back of our yard consisted of a 25 foot upward slope that had been covered with St. Augustine grass and impossible to mow. Highland Grove transformed this space. We now have a gorgeous back area with retaining walls, walkways, fruit trees, flowering shrubs and plants all on a drip irrigation system. Something is always in bloom. Words can not express how pleased we are with the results. We are the envy of all the neighborhood."
Serving the Entire Apopka Metro Area
Highland Grove Landscaping & Farm is proud to provide landscape designs and landscape installation services to Apopka. Some of the notable landmarks in Apopka include:
Wekiwa Springs State Park

Kelly Park

Rock Springs Run State Reserve
The cities we also serve that are close to Apopka include:
Winter Park, FL

Winter Garden, FL

Mount Dora, FL

Windermere, FL

Wekiva Springs, FL
FAQs on Professional Landscaping Services and Wholesale Plant Nursery
Yes, we offer our clients a free consultation with our landscape designer. During that first call, we learn your goals and how to proceed from there.
Every landscaping project is different. This is why we strive to ensure we learn your goals and requirements before assigning a monetary figure to your project.
At Highland Grove Landscaping & Farm, we hire the best and most experienced in the landscape industry. We have a level of quality to uphold, and our team guarantees that those standards are met in every project we handle.
Apopka Landscaping Services Near You
When people hear the word landscaping, the first thing that comes to mind is the tremendous amount of work involved. But to us, we see the opportunity to transform an outdoor space into the most beautiful form of art using nature and modern installations. In line with this thought, we strive to prioritize all our clients, which in turn allows us to transform your dream landscape into reality.

Our goal at Highland Grove Landscaping & Farm is to meet every project's practical and aesthetic design goals while maintaining functionality. The end results also have to be low maintenance. So, if you are looking for Apopka landscapers to help with your landscaping project, call (352) 394-3318 or email highlandgrove1@aol.com to schedule a free consultation meeting.
Why Choose Highland Grove Landscaping & Farm
Highland Grove Landscaping & Farm is one of the most trusted Apopka landscapers. With over 23 years of service as an Apopka landscaping design company, we have amassed years of experience making residential and commercial property yards a work of art. We know what it means to take ordinary plants, shrubs, flowers, and landscape installations and use them to transform an outdoor space into a fairy world.
As one of the top landscapers in Apopka, you can be certain that we will be available to help whenever you require landscaping services. Other aspects that make us stand out as a landscaping design and installation company are:
Free Consultation

Sustainable and weather-resistant landscaping

Low-maintenance landscape designs

23 years of exceptional service and glowing recommendations

Licensed and insured
Keeping Up with the Latest Local Apopka News
Highland Grove Landscaping & Farm knows that keeping up with the latest changes in the landscaping industry is a huge concern for our clients. A minor change in our everyday affairs can affect our lives. However, it does get hard to keep up with the local news. So, you can expect our Highland Grove Landscaping & Farm to keep you in the know about our community. The most recent local Apopka news are: