Professional Landscape Designers & Landscape Contractors in Eustis, FL
Unlock The Beauty of Your Eustis, FL Home with Highland Grove Landscaping & Farm
Highland Grove Landscaping & Farm is a top-rated landscaping company serving Eustis, FL. And landscape design and installation have been our specialty for the past 24 years. Our experienced professionals are dedicated to providing our clients with quality workmanship and outstanding customer service. This is evident in every project we tackle, whether a small backyard renovation or a large-scale commercial installation. This has cemented our reputation as the go-to Landscape Contractors in Eustis, FL.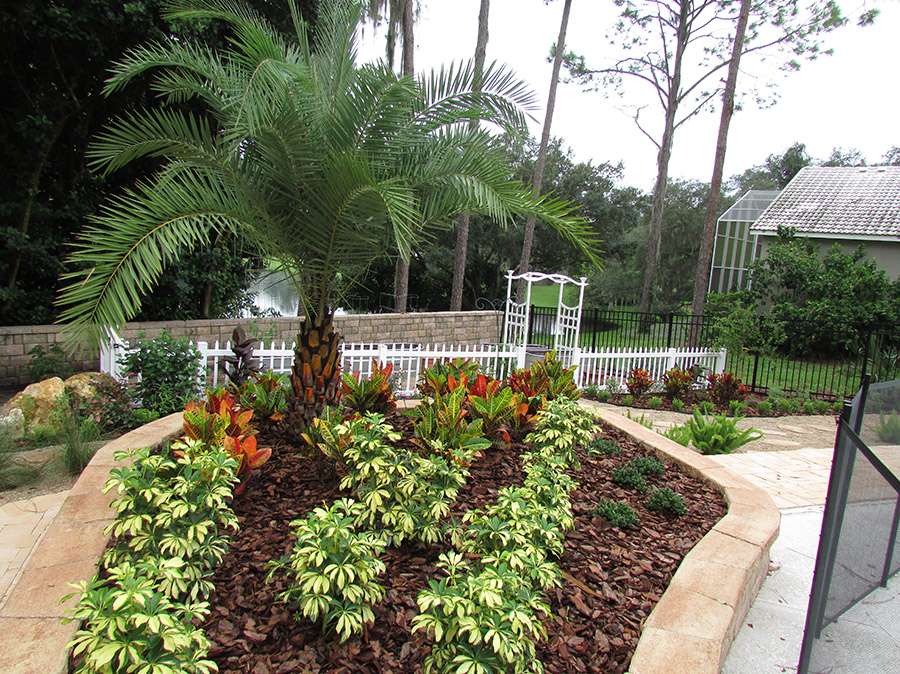 The full-service landscapers in Eustis, FL
Having embraced a customer-centric approach and commitment to excellence, our team of professional landscape contractors in Eustis, FL is dedicated to catering to all your landscaping needs. And they're able to achieve this objective by using highly sophisticated equipment and advanced techniques, coupled with an in-depth understanding of the landscaping industry. Here are some of the services our landscapers in Eustis, FL offer.
At Highland Grove Landscaping & Farm, we understand that each client has a unique vision for their outdoor living space. As a result, we will take your input and tailor a design to fit your vision. In addition, our Eustis, FL Landscapers will help you choose the right plants, hardscape features, and more to create a beautiful and functional yard. Don't worry about lighting, irrigation systems, and other additional features. We can take care of that too!
Once we finalize the design for your outdoor living space, our team will start the installation process. With top-quality materials and our expertise, you can rest assured that you will be getting the absolute best in landscape installation. By listening to your ideas and factoring in your yard's unique characteristics, like topography and soil type, our landscape contractors in Eustis, FL, can create a landscape that reflects your tastes and lifestyle.
Good lighting is essential for creating a beautiful landscape at night. Highland Grove Landscaping & Farm can help you achieve that by helping you to choose the right lighting fixtures to highlight specific elements in your yard, like focal points or pathways. We will also handle wiring, hookups, and other electrical work so your new lights are safe and functioning properly. With our lighting installation services, you'll have the perfect accent to enjoy your outdoor space at night. 
Outdoor Fire Feature Design And Installation
There is no better way to enjoy your backyard than with a cozy fire to lounge around. Highland Grove Landscaping & Farm can help you do just that! Transform your backyard into an inviting space for your family and friends.
We offer various fire features, including fire pits, fireplaces, and gas fire bowls. In addition, we have contemporary fire features as well as classic ones to suit your taste. And our experienced team will customize a design perfect for your outdoor space. 
Hardscape design and installation
Hardscape features add functionality and structure to your outdoor space. We can help you choose and install the right features for a visually appealing and practical outdoor living area. From walkways that create a seamless transition from your house to the outdoors to patios and decks for entertaining guests.
Our landscape installation services may start with excavating the desired area and grading to ensure all surfaces are level and even. And depending on your desired outcome, we will continue with the installation of the elements you have chosen, be it hardscaping features, such as pavers and walkways, or softscaping features, like plants and shrubs.

In addition, we will consider any restrictions or considerations that may be unique to your property. For instance, if your backyard has an incline or is on rocky terrain, we can create a design that works with the existing landscape.
Installing drought-resistant and native plants
The city of Eustis, FL falls in the USDA Hardiness Zone 9b. This zone is known for its mild temperatures, making it ideal for planting a wide range of drought-resistant and native plants. At Highland Grove Landscaping & Farm, we can help you choose plants that will accentuate your hardscape features. From ornamental shrubs to flowering trees, you will be spoiled for choice. Besides, our ground cover options will keep your lawn looking neat and green all year round.
The Landscapers in Eustis, FL Committed to Quality Work
At Highland Grove Landscaping & Farm, our overriding priority is to provide the highest quality services for our clients. That's why we approach every project with dedication. You can depend on us to deliver on our promise. In addition, we are focused on meeting your expectations and ensuring the job is done right.
We understand that every client goes into a project with a budget in mind. That's why we will keep you informed to ensure there are no surprise expenses down the road. Furthermore, our free consultation before the project begins will help you make decisions confidently.
Most people are busy and want minimum disruption to their lives. We understand this and will work efficiently to ensure minimal disruption and maximum satisfaction.
 Are you ready to spruce up your outdoor space? Highland Grove Landscaping & Farm has the expertise, skill, and creativity to make it happen. From hardscape and fire feature installations to irrigation systems, we can help you transform your outdoor space into an inviting, stylish, and functional place. Contact us today for the perfect outdoor living area for you and your family!
Local Points Of Interest
The State Theatre's Bay Street Players Bring Cultural Arts and Education to  Eustis, FL
The city of Eustis, Florida, is home to Bay Street Players, a theater renowned for its productions that foster creativity and community engagement. Founded in 1974, Bay Street Players is a non-profit organization that strives to bring culture and education to the people of Central Florida. 
Every year, five main stage productions and a regular schedule of limited engagements, benefits, and special events are performed. One of the theater's most popular initiatives is its Young People's Theatre program, a structured environment where students of all ages can learn the theatrical arts.
 In addition to offering a variety of theatrical productions from established and upcoming artists, Bay Street Players stands out as a source of unique experiences for locals and visitors alike. The theater also participates in many local events, including First Fridays, the African American Heritage Festival, GeorgeFest, and the Amazing Race for Charity. 
Address: 109 N Bay St, Eustis, FL 32726
Source: https://eustisstatetheatre.org/
A Look at Trout Lake Nature Center in Eustis, FL
Thirty years ago, Oklawaha Valley Audubon Society (OVAS) members formed Trout Lake Nature Center (TLNC), an educational non-profit organization in Eustis dedicated to preserving local wetlands and providing community learning opportunities about Central Florida's native wildlife ecosystems. TLNC is a tranquil oasis comprising a 100-acre conservation easement and 130 acres of land around Trout Lake.
Part of its mission is to build a connection between the community and nature through field trips, educational exhibits, and environment-related programs. Through passionate volunteers and staff, TLNC has grown to include a boardwalk, dock, and museum. Besides the museum, OVAS has an Education Building dedicated to teaching visitors about wildlife conservation and sustainable practices.
TLNC is currently working on further developing its facilities and programs. The ultimate goal is to create a space that conserves, protects, and educates the public while inspiring them to preserve the local environment actively.
 Address: 520 East, County Rd 44, Eustis, FL 32736
Source: https://troutlakenaturecenter.com/
Eustis Historical Museum
Eustis, FL, is home to the Eustis Historical Museum, a grand monument to the pioneering spirit of Guilford Davis Clifford, whose construction began in January 1910. The museum consists of Clifford House, a two-story Neoclassical structure with eighteen rooms and four fireplaces with imported Italian tiles. Additionally, the Unity Bell Pavilion, dedicated in 1997 and hosting many events over the years, also stands on the grounds. The museum also features a Citrus Museum, which displays historical artifacts and photographs from the citrus industry.
The City of Eustis owns the home and grounds of the museum, while volunteers of the Eustis Historical Museum do its operation. Membership donations have been key in the running of the museum. Those wishing to experience a time before the freezes that affected Florida in the late 19th century should visit the Eustis Historical Museum.
Address: 536 N Bay St, Eustis, FL 32726
Source: http://www.eustishistoricalmuseum.org/
Some of our services include
Your Guide To Eustis Landscaping Renovations
Our Eustis landscaping team will customize the design to suit your vision. Every person has different dreams and ideas of how they want their outdoor space to look. Having a team that puts your vision first is essential; that is why we have a skilled team that ensures you are satisfied with the results. Below are some of the reasons our landscaping design services are a go-to option for your outdoor space or garden.
"I have recently purchased a home in Celebration, Florida, and one of the first things it needed was a landscaping makeover. Highland Grove, under the excellent direction of Diana and Greg, knew exactly what it needed to make the house "stand-out" amongst the others. Diana listened to my requests and guided me in the right direction to give my home the perfect touch to bring it to life!....Literally! By far, this was the BEST decision I made to make my new house a home! Thank you, Highland Grove!"
"Dear Diana, Eric & I just wanted to take a moment to thank you for your efforts during our recent backyard renovation project. As you are well aware, the overall project had numerous delays and contractor issues. However, the one contractor we could count on was your company. You and your team's patience and level of professionalism far exceeded our expectations.Moreover, the final product you delivered truly is a masterpiece. You truly made our dream of a Tuscan style retreat a reality. Guests who visit our home tell us repeatedly, that we have the most beautiful pool area in Celebration.Thank you again for all your efforts! I have no doubt that you and your company will continue to enjoy much success."
"We wanted to take this opportunity to thank you for always doing such a great job on our property. Your vision, expertise and genuine caring for what you do, has transformed our home into the showcase home of the neighborhood. We love that you have offered the service of taking care of the landscaping by mowing, weeding, trimming and fertilizing. We look forward to the 3rd week of each month, when Loren and the guys come to perform their magic."
"The back of our yard consisted of a 25 foot upward slope that had been covered with St. Augustine grass and impossible to mow. Highland Grove transformed this space. We now have a gorgeous back area with retaining walls, walkways, fruit trees, flowering shrubs and plants all on a drip irrigation system. Something is always in bloom. Words can not express how pleased we are with the results. We are the envy of all the neighborhood."
Highland Grove Landscaping & Farm in Eustis, FL
As a comprehensive team of landscaping and plant nursery Eustis, FL experts, we pride ourselves in offering quality. But even if we offered all these amazing services and you cannot access us easily, it would all be for not.
FAQs on our Eustis Landscaping Service
When it comes to landscape diversity, you can depend on us. Our broad spectrum of services ensures you not only know the options available, but you can also find the right option that suits your needs.
On the surface, yes, you can. But you need a lot of experience and knowledge to do a proper job. While it may be more expensive in the short run to hire a landscaping company, in the long run, it can help you cut costs by having an easy-to-maintain lawn that will last many years..
Hardy plants have a reputation for flourishing in adverse conditions. However, hardy plants are divided into cold weather and hot weather hardy plants. In the extreme ends of the northern and southern hemispheres, cold-weather hardy plants do well. While within the tropics, where many deserts are located, the hot weather plants flourish. You need to work with an expert who can properly guide you to make the right choice for the central Florida climate.
During our two decades in Florida, our landscaping company has offered a variety of services, including Eustis landscape design, and a wholesale plant center. Our experienced and skilled team will help you fully realize your vision, no matter the size. We recognize the need to work with a good team that includes you every step of the way. That's why we're dedicated to great communication and service.
Some of our landscaping services include: