Professional Landscape Designers & Landscape Contractors in Mount Dora, FL
Highland Grove Landscaping & Farm is a Mount Dora, FL-based landscaping company providing design and installation services throughout our community and the surrounding areas. Our landscapers Mount Dora are local experts who are versatile, knowledgeable, and ready to work with you. We realize that each customer is different and so are their preferences. That is why we offer personalized landscaping services in Mount Dora that set each customer's property apart from the others.
As your landscaping company, you can trust our team to work closely with you to ensure that you get the best out of your property and outdoor space. Our ultimate goal is to develop a Mount Dora landscape design that'll add value and beauty to your property while saving you time and money on ongoing maintenance needs.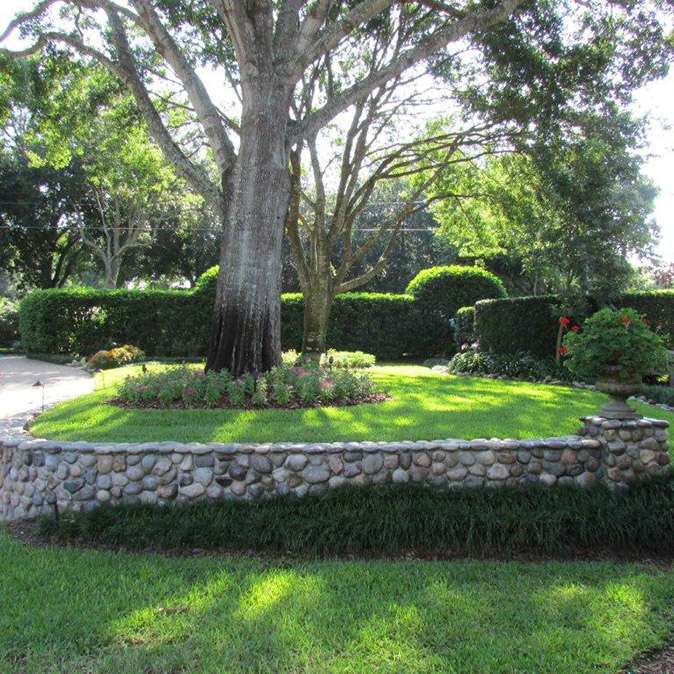 Professional Landscapers Near You
You deserve to work with the best landscaping company in Mount Dora, one that has your best interests at heart. Here at Highland Grove Landscaping & Farm, we take great pride in our commitment to customer satisfaction. Knowing that our landscape design crew will ensure that you get the best possible results for your project, you can rest assured that we will take care of everything professionally and efficiently.
To facilitate the best outcomes possible, we work closely with you to better understand your expectations and evaluate various choices that will contribute to the final result. During the initial consultation meeting, our landscapers in Mount Dora will discuss important details of the project with you. Some of the areas we focus on include:
Answering these questions during our meeting can help shape the final outcome of your landscaping project in Mount Dora and improve customer satisfaction.
Reliable and Responsible Landscape Renovation Services in Mount Dora
Our Highland Grove Landscaping & Farm team is the one to speak to if you need to upgrade your existing landscaping. We understand that some landscaping installations can appear old and outdated, taking from your property's value instead of adding to it. Our team has the experience and expertise needed to consult and deliver a masterpiece. 
Our Landscape Design Services are Affordable to all Homeowners in Mount Dora
Homeowners in and around our community can take advantage of our affordable Mount Dora landscape design services. As a locally present company, we offer competitive rates, get the job done on time, and ensure that customer satisfaction remains the utmost focus. You can expect us to walk you through our process, from the initial consultation to the material sourcing, installation, and completion. If you're looking to incorporate local and exotic plants into your landscape, trust our plant nursery Mount Dora to supply the finest array of landscape ornamental plants to meet your needs.
Some of our services include
"I have recently purchased a home in Celebration, Florida, and one of the first things it needed was a landscaping makeover. Highland Grove, under the excellent direction of Diana and Greg, knew exactly what it needed to make the house "stand-out" amongst the others. Diana listened to my requests and guided me in the right direction to give my home the perfect touch to bring it to life!....Literally! By far, this was the BEST decision I made to make my new house a home! Thank you, Highland Grove!"
"Dear Diana, Eric & I just wanted to take a moment to thank you for your efforts during our recent backyard renovation project. As you are well aware, the overall project had numerous delays and contractor issues. However, the one contractor we could count on was your company. You and your team's patience and level of professionalism far exceeded our expectations.Moreover, the final product you delivered truly is a masterpiece. You truly made our dream of a Tuscan style retreat a reality. Guests who visit our home tell us repeatedly, that we have the most beautiful pool area in Celebration.Thank you again for all your efforts! I have no doubt that you and your company will continue to enjoy much success."
"We wanted to take this opportunity to thank you for always doing such a great job on our property. Your vision, expertise and genuine caring for what you do, has transformed our home into the showcase home of the neighborhood. We love that you have offered the service of taking care of the landscaping by mowing, weeding, trimming and fertilizing. We look forward to the 3rd week of each month, when Loren and the guys come to perform their magic."
"The back of our yard consisted of a 25 foot upward slope that had been covered with St. Augustine grass and impossible to mow. Highland Grove transformed this space. We now have a gorgeous back area with retaining walls, walkways, fruit trees, flowering shrubs and plants all on a drip irrigation system. Something is always in bloom. Words can not express how pleased we are with the results. We are the envy of all the neighborhood."
Highland Grove Landscaping & Farm
Mount Dora FL
When it comes to landscape diversity, you can depend on us. Our broad spectrum of services ensures you not only know the options available, but you can also find the right option that suits your needs.
On the surface, yes, you can. But you need a lot of experience and knowledge to do a proper job. While it may be more expensive in the short run to hire a landscaping company, in the long run, it can help you cut costs by having an easy-to-maintain lawn that will last many years..
Hardy plants have a reputation for flourishing in adverse conditions. However, hardy plants are divided into cold weather and hot weather hardy plants. In the extreme ends of the northern and southern hemispheres, cold-weather hardy plants do well. While within the tropics, where many deserts are located, the hot weather plants flourish. You need to work with an expert who can properly guide you to make the right choice for the central Florida climate.