Professional Landscape Designers & Landscape Contractors in Kissimmee, FL
Live Beautifully With Help From Our Landscape Designers
Highland Grove Landscaping & Farm has been open since 1999, helping local homes and businesses to look their best. Our Kissimmee landscapers are highly skilled, creative, and stay on top of the latest industry trends. We combine our knowledge and expertise with customers' ideas creating a masterpiece on each project we handle. Working with us as your landscaper, you can expect:
Industry Leading Landscaping Techniques & Materials
Reliable, Professional Service
Full-Service Design Solutions
Competitive Pricing That Gets You A Dream Yard For Less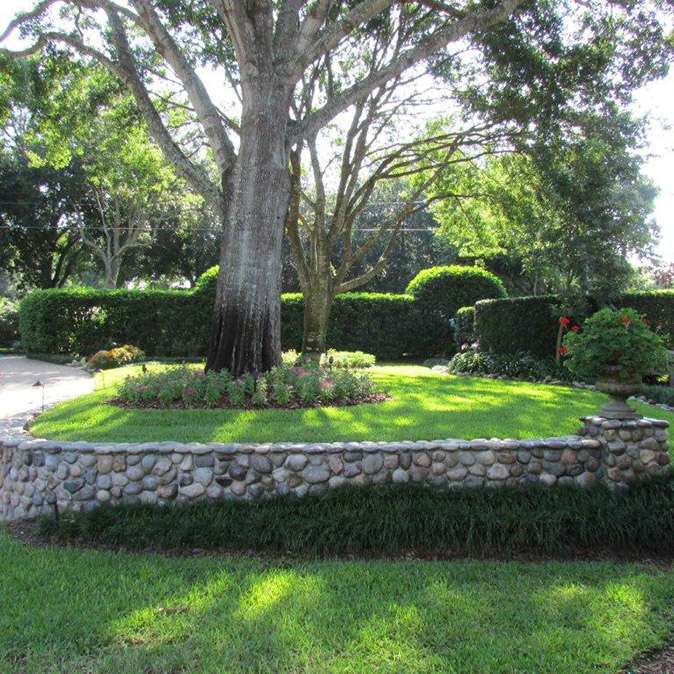 Highland Grove Landscaping & Farm provides a wide array of landscaping solutions to our residential and commercial customers. We know the importance of a lively and appealing landscape and we go the extra mile to make it happen. Some of our services include:
Our Kissimmee landscape designers have years of experience creating stunning landscape designs. We are great listeners, working closely with our customers to understand their specific needs and making sure that they get the right outcome. We use the latest strategies to counter possible challenges and deliver landscaping solutions on time and within budget.
Hardscaping
Firepits and Fire Features
Outdoor Lighting
Garden Design
Irrigation
Patios & Decks
Tired of your current landscape and its look? Highland Grove Landscaping & Farm can renovate and rejuvenate your space. Don't settle for subpar landscaping again! Let us make your property the envy of your neighborhood instead.
Florida landscapes are always changing. Even with a great design and regular landscape maintenance, you should expect your property to need a refresh every 5 to 10 years. A combination of fast growing, lush vegetation and wetlands environment can wreak havoc on your landscaping over time. As trusted landscaping pros in Kissimmee, we can help you get your landscaping under control in no time.
We are serving Kissimmee, FL, and nearby Areas Including
Local Landscapers Near You
There are many advantages to hiring a trusted local landscaper. Tired of your property's dull appearance? Looking for local Kissimmee landscapers to work with? Contact us at Highland Grove Landscaping & Farm. Our team of local and highly skilled landscapers and design professionals can help you with any landscape installation in Kissimmee, FL and the surrounding area.
"I have recently purchased a home in Celebration, Florida, and one of the first things it needed was a landscaping makeover. Highland Grove, under the excellent direction of Diana and Greg, knew exactly what it needed to make the house "stand-out" amongst the others. Diana listened to my requests and guided me in the right direction to give my home the perfect touch to bring it to life!....Literally! By far, this was the BEST decision I made to make my new house a home! Thank you, Highland Grove!"
"Dear Diana, Eric & I just wanted to take a moment to thank you for your efforts during our recent backyard renovation project. As you are well aware, the overall project had numerous delays and contractor issues. However, the one contractor we could count on was your company. You and your team's patience and level of professionalism far exceeded our expectations.Moreover, the final product you delivered truly is a masterpiece. You truly made our dream of a Tuscan style retreat a reality. Guests who visit our home tell us repeatedly, that we have the most beautiful pool area in Celebration.Thank you again for all your efforts! I have no doubt that you and your company will continue to enjoy much success."
"We wanted to take this opportunity to thank you for always doing such a great job on our property. Your vision, expertise and genuine caring for what you do, has transformed our home into the showcase home of the neighborhood. We love that you have offered the service of taking care of the landscaping by mowing, weeding, trimming and fertilizing. We look forward to the 3rd week of each month, when Loren and the guys come to perform their magic."
"The back of our yard consisted of a 25 foot upward slope that had been covered with St. Augustine grass and impossible to mow. Highland Grove transformed this space. We now have a gorgeous back area with retaining walls, walkways, fruit trees, flowering shrubs and plants all on a drip irrigation system. Something is always in bloom. Words can not express how pleased we are with the results. We are the envy of all the neighborhood."
Highland Grove Landscaping & Farm in Kissimmee, FL
We are available from 9AM to 5PM Monday through Friday. 
When hiring a landscaper in Kissimmee, it is good to ask where they source their plants and shrubs, the estimated time the project will take, and what other outdoor design services – such as outdoor lighting and irrigation – they can add to your project. 
Don't forget to make sure that your landscaper understands your vision, and don't be afraid to ask for samples of their previous work!
At Highland Grove Landscaping & Farm, we are more than just lawn care. As a full-service landscape designer, you can contact our team for outdoor lighting, irrigation, fire features, patios, hardscaping, and much more. 
With any design and installation project, you can expect a custom layout that meets the ideal needs of your yard and matches your ultimate vision. 
Depending on the size of your yard or property and the extent of work to be done, the cost or your landscaping project could vary greatly. 
Contact us today for a free custom estimate on your next project. 
Helpful Kissimmee Information
Highland Grove Landscaping & Farm wants you to enjoy a seamless experience, whether you are renovating your landscape or looking to design a fresh layout. We realize that some construction work may demand building permits and have gathered the relevant information that you need.
Kissimmee, FL Building Permits
Geographical Area: Kissimmee City Community Development Center
Address: 101 Church St #100, Kissimmee, FL 34741, United States
Hours: Opens 8:00 am, Mondays to Fridays
Phone: +1 407-518-2120 
Keeping up with Latest Kissimmee News
COVID-19 Update – The Kissimmee Police Department parking lot has become a makeshift COVID-19 testing site. The KDP noted that this became necessary because much testing needed to be done to protect the community and residents.
Counties Most Affected By COVID-19 – The Orlando-Kissimmee-Sanford, FL metro area has recorded as high as 161.1 new average coronavirus cases every day per 100,000 residents. The number is a decrease from the 288.7 daily new cases per 100,000 Orlando residents in the past.