Professional Groveland Landscapers
Do you want to turn your property's exterior into a tranquil outdoor space where you can connect with nature? Perhaps you'd like your garden to be a haven for local bird life with designated entertainment areas and aesthetic features.

At Highland Grove Landscaping & Farm, we provide a full landscaping design and installation solution to create a unique and functional outdoor environment. Whether you want to increase your property's resale value, reduce utility costs, or create functional, aesthetic outdoor spaces, we can provide you with a tailored and high-value solution.

Our Groveland landscapers have been active in the industry since 1999, and we bring a unique combination of skills to the table. Call us today to schedule a free consultation.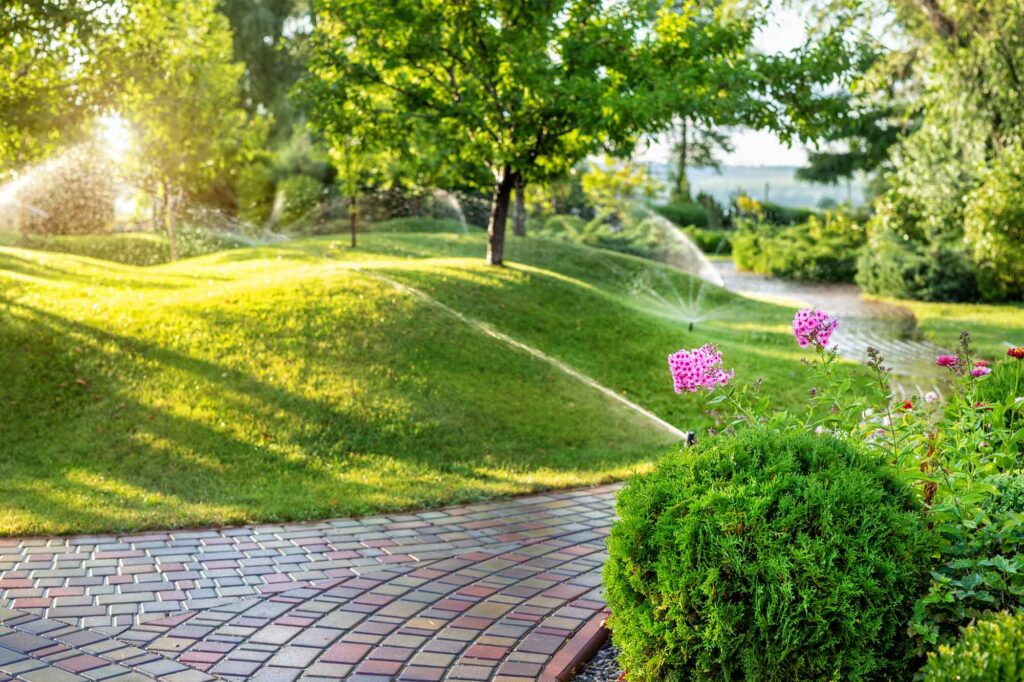 Outdoor Lighting Groveland – Professional Installations
Our Groveland landscaping company offers custom outdoor lighting solutions that are safe, efficient, and up to code. Take advantage of these services to illuminate your property's exterior and deter break-ins or draw attention to aesthetic landscaping elements, such as water features. Our outdoor lighting installations are also ideal for shedding light on potential tripping hazards and preventing personal injuries.
Our Landscaping Services in Groveland, FL
Our Groveland landscapers offer the following landscaping services in Central Florida:
Best-in-Class Groveland Landscape Design and Installation Services
At Highland Grove Landscaping & Farm, we offer a comprehensive range of landscaping design and installation solutions:
"I have recently purchased a home in Celebration, Florida, and one of the first things it needed was a landscaping makeover. Highland Grove, under the excellent direction of Diana and Greg, knew exactly what it needed to make the house "stand-out" amongst the others. Diana listened to my requests and guided me in the right direction to give my home the perfect touch to bring it to life!....Literally! By far, this was the BEST decision I made to make my new house a home! Thank you, Highland Grove!"
"Dear Diana, Eric & I just wanted to take a moment to thank you for your efforts during our recent backyard renovation project. As you are well aware, the overall project had numerous delays and contractor issues. However, the one contractor we could count on was your company. You and your team's patience and level of professionalism far exceeded our expectations.Moreover, the final product you delivered truly is a masterpiece. You truly made our dream of a Tuscan style retreat a reality. Guests who visit our home tell us repeatedly, that we have the most beautiful pool area in Celebration.Thank you again for all your efforts! I have no doubt that you and your company will continue to enjoy much success."
"We wanted to take this opportunity to thank you for always doing such a great job on our property. Your vision, expertise and genuine caring for what you do, has transformed our home into the showcase home of the neighborhood. We love that you have offered the service of taking care of the landscaping by mowing, weeding, trimming and fertilizing. We look forward to the 3rd week of each month, when Loren and the guys come to perform their magic."
"The back of our yard consisted of a 25 foot upward slope that had been covered with St. Augustine grass and impossible to mow. Highland Grove transformed this space. We now have a gorgeous back area with retaining walls, walkways, fruit trees, flowering shrubs and plants all on a drip irrigation system. Something is always in bloom. Words can not express how pleased we are with the results. We are the envy of all the neighborhood."
We Serve the Entire Central Florida Area
At Highland Grove Landscaping & Farm, we serve areas throughout Lake County, FL, including:
Claremont, FL

Mascotte, FL

Mineola, FL

Montverde, FL

Ferndale, FL

Howey-in-the-Hills, FL
Contact us today to schedule a free consultation for a landscaping design or installation in one of the above areas.
FAQs on Professional Landscaping Services and Wholesale Plant Nursery in Bushnell, FL
To start your landscaping project, contact us at (352) 394-3318 and schedule a free initial consultation.
Our team of experts will recommend suitable plants for your landscape after considering various criteria, including your property's soil conditions, the available space, and the local climate.
We can install an irrigation system during a new landscape installation. However, we don't offer irrigation maintenance or repair services.
Why Should You Hire Our Groveland Landscapers?
Various landscaping contractors serve Central Florida, so why should you trust the team at Highland Grove Landscaping & Farm?
Exceptional customer service:

At Highland Grove Landscaping & Farm, we aim to provide property owners with a convenient, hassle-free experience. Our team will also value your time and privacy throughout the design and installation process.

Reliability:

Our team commits to providing the outcome you expect. Meeting your project timeline objectives and budget goals are among our top priorities.

Clear communication:

When you hire us, you partner with a team that understands the value of frequent and clear communication. We will consult you throughout the landscape design and installation process, helping you make informed decisions. Our team will also provide you with regular updates on our progress.
Passionate landscaping team: At Highland Grove Landscaping & Farm, we have an unbridled passion for landscape design and installations. This passion is the foundation of the skillful precision with which we carry out landscaping projects in Groveland, FL.
Landscaping Solutions for Groveland Conditions
At Highland Grove Landscaping & Farm, we pride ourselves on providing personalized landscaping solutions to ensure long-lasting value. We understand property owners don't want to struggle to maintain their landscaping installations. Consequently, we offer landscaping solutions inherent to the area, including water-wise plants that flourish in the local climate.
Groveland, FL, receives approximately 51 inches of rain annually, 13 inches above the national average. The city also has an average of 235 sunny days per year, with a relatively high comfort index.
The climate supports diverse native vegetation. Popular landscaping plants in the area include bottlebrush, creeping juniper, Asiatic jasmine, and more.
Outdoor Fire Feature Design and Installation
Our Groveland landscapers can design a unique fire feature that fits your existing landscape layout and unique requirements. A fire pit or outdoor fire pit is a multifunctional landscaping element that is an ambient source of illumination and heat. A fire pit can also be a visual focal point in your garden and a central feature of an outdoor gathering space.
Stay Up to Date With the Latest Groveland News
Tree conservation is an increasing concern in Florida: In 2022, wildfires destroyed 22,000 acres, causing extensive damage to iconic North American trees. At Highland Grove Landscaping & Farm, we proudly contribute to tree conservation in the state.
Groveland's crime rate is relatively low: According to CrimeGrade.org, Groveland is a relatively safe area. However, property owners who want outdoor security lighting to deter potential break-ins can contact us to schedule a free consultation.